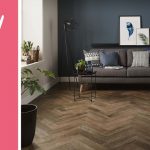 It doesn't matter what space you are decorating, you can always count on Amtico in Ormskirk. It's one of the most famous brands, and it offers a wide range of products that will suit your interior décor, likes, and budget. Amtico offers a versatile choice of flooring and we, at Greens Carpets, will be more than pleased to assist you find the perfect product for your home or office. You can simply visit our showroom and our Amtico trained experts will be there to advise you and help you. The tastes of each individual are unique, and we strive to go the extra mile to ensure that our customers are happy and satisfied with their purchases.
For home owners in Ormskirk, Amtico is hugely popular for its innovative and inspirational products. The natural looking designs simply add a touch that will easily complement any room of the house. And on top of that, the number of facilities that come with Amtico vinyl flooring will make you more appreciative of the brand. They are very low maintenance, meaning that you won't have to spend a lot of time cleaning the floor even though it's recommended to take good care of it so that they may last a lot longer, and they are scratch-resistant. Whether you are looking for something bold, or classic or contemporary or simply beautiful, you will find them in our collection of Amtico. Once you have made your purchase, our team can also help you with the installation of the flooring. Our staff members are qualified to walk you through all the steps including concept, design and installation process. We can arrange a free design service, as well as provide you with no obligation estimates.
For best prices and services for Amtico in Ormskirk, don't hesitate to get in touch with us at Greens Carpets. We are a leader when it comes to flooring products and related services. If you are looking for Amtico flooring for your home, contact Greens Carpets. Amtico is not just beautiful, but it is also affordable, and it comes in so many different designs and styles.