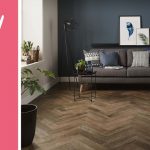 Amtico in Eccleston, available at Greens Carpets, is a luxury vinyl that will appeal to decor preference. Amtico is luxury vinyl flooring manufactured right here in the UK with a history of design in flooring going back 50 years. It's very low maintenance, moderately priced and will last for 25 years before you need to consider replacements. Do you like the look of a timber floor or natural stone? How about an elegant tiled look with a border or a contemporary design? All these looks and more are available in Amtico luxury vinyl floor covering. You get the look you want without the cost or the maintenance. You can still put down an area rug or runner to compliment your decor and coordinate with the vinyl flooring. Amtico has something for everybody in their vast selection of patterns and styles.
You may notice the cost of Amtico luxury vinyl is a bit higher per square foot than some carpets or other brands and qualities of vinyl. Don't worry about that because in Eccleston, Amtico makes up the difference in price with low cost installation. It's so easy to install that our professional installers can do it very little time. The other consideration is the guarantee of twenty-five years. You won't have to buy flooring again, probably for as long as you own the house. With the most minimal care of any other flooring, Amtico colours remain looking new throughout its lifetime. There is a long list of pluses to buying this flooring besides being the best looking and, all things considered, the most economical.
Amtico in Eccleston is soft underfoot and the material mutes sounds. It stands up to busy families with kids and pets. Because it requires little time and effort to clean, your home stays cleaner and healthier with less dust and allergens floating around. We are proud to stock Spacia and Signature Amtico flooring at Greens Carpets.  We have dedicated ourselves to the floor covering needs of our customers for nearly 60 years. We're family owned and family friendly. Contact Greens Carpets and let us help you find your perfect Amtico flooring from our broad selection of designs. You will find our customer service attentive and courteous and your satisfaction guaranteed.