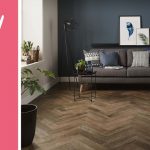 We supply Amtico in Wigan as it is one of the best loved and recognised vinyl floor tiles. There are a number of ranges to choose from. All the ranges are top quality and manufactured to the highest standards. The domestic range tends to be slightly thinner and softer than the commercial range which has been made especially for heavy duty foot traffic. Much of the range resembles wood of all kinds from oak in innumerable shades to walnut and washed wood designs.  There are also the various stone designs in a wide range of colours. There are solid colour tiles and patterned tiles. The range is enormous and there are patterned tiles which can be used as statement pieces in the floor. The tiles can be laid in a combination of colours and patterns to bring out the designer in you.
When you need top quality vinyl flooring in Wigan, Amtico offers you a very wide range of patterns and designs. The flooring has been manufactured with the environment in mind and the tiles contain some recycled material.  Amtico has also improved the energy efficiency of their flooring to cut heating bills. We are proud to be able to offer high quality British products as it supports our local industry. Amtico offers the latest in design trends as well as having a more traditional range. If you are looking for a large expanse of flooring with a wooden appearance we can offer you a number of designs and colours to suit any room you are designing.  Our helpful and friendly staff will measure the area so that there is minimal wastage.
There is a 25 year warranty on some of our ranges of Amtico in Wigan. Contact Greens Carpets today or visit our showroom to see the truly enormous range of flooring available. The company was established in 1960 by Mr Green and is still an independent and family run business. We are able to supply the best possible choice of flooring at the most competitive prices. We can advise you on the perfect flooring for your home and make a point of fitting your new flooring as quickly and professionally as possible.