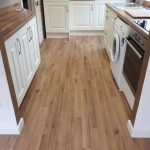 V4 wood flooring in Standish is offered by Greens Carpets. Our family run flooring business was established more than 50 years ago, and continues to provide our customers with the best flooring options for their homes and offices. We understand how tedious changing out your floors or installing new ones can be. This is why we endeavour to make the process of choosing the perfect flooring material and having them installed as seamless a task as possible. The process itself needs to be enjoyable and effortless. After all, you'll want to feel comfortable in your space, whether you'd want to sit on the floor or simply enjoy the soft feel on your feet as you walk.
You can never go wrong with high quality engineered wood floors in your home. In Standish, V4 wood flooring is available in various shades and finishes to suit your needs. The modern colouring and treatment techniques applied enables for this to happen. From cool greys to deep rich tones, you'll find something to use in each room of the house. It also gives you the opportunity to stick to one type or go for a variety of finishing around the house. The best part is you'll enjoy the benefits of the aesthetic look of wood floors without necessarily dealing with the setbacks. These floors are sustainable and environmentally friendly in that significantly less wood is used to procure each plank, since only the top layer of the plank is made up of wood from forested areas. Moreover, this type of flooring won't undergo excessive expansion and contraction like solid wood.
V4 wood flooring in Standish can be installed in rooms that have a high moisture level without the fear of damage. Of course, the material will be affected over time but a simple re-sanding of the floorboards is all that's needed to have them looking good as new. We're proud to state that we are retailer of V4 wood flooring in Wigan. Contact us today for quality flooring. Each V4 floor range comes with a 35-year guarantee. Feel free to come by our showroom as well.