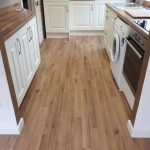 Greens Carpets has the V4 wood flooring in Hindley you want for your home. There are other manufacturers of engineered flooring. But, in our experience, which dates back over fifty years, V4 wood flooring is a product we can recommend without reservation. V4 is an independent family run business based in England and now with factories and markets worldwide. It's not every day an independent locally owned company reaches such heights. The fact they did is a sure indication of the high quality of their traditional wood floors and the more modern engineered wood floors. The look of solid wood is there and they are as durable as solid wood because engineered wood is real timbers. But they leave room for imagination. V4 has imagined some of the most beautiful wood floors to pass through our store; ever.
We are pleased to be the V4 wood flooring retailer for our area. We are well equipped with experience if, in Hindley, wood flooring is your choice. We want your shopping and installation experience to be pleasant without the pressure of decision-making. Our product knowledge of all our flooring types and brands is the antidote to your worry. You worry because you don't have the product information to feel confident in your decision. We have no problem taking the time to provide you with the facts you need to make an informed decision. New flooring is an investment and we encourage you to choose what you love but do it with a view to the long term.
V4 wood flooring in Hindley, whatever style you choose, is an excellent example of investing with a long view.  You don't have to just take our word for the quality of V4 wood flooring; every range is guaranteed by the company for 35 years. You could change your home decor every three years and your V4 wood flooring will blend right end. That's one of the great values of natural wood; it's timeless. Contact us or pay us a visit and let our staff enlighten you with the benefits of V4 flooring. You will be amazed at the perfect combination of lustrous beauty and practical application. Our personal customer service extends to the professional installation by our experienced team of perfectionists.