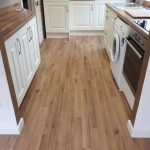 Wood flooring in Leigh is an excellent choice as the flooring choice for your home. If you are looking for quality wood flooring for your home, you are welcome to pay us a visit. As a leading V4 wood flooring retailer, we can provide the perfect high quality flooring that will meet your requirements. V4 wood flooring is engineered wood flooring. This means that it is constructed from multiple layers of timber with a solid wood veneer. The V4 company takes great pride in its exceptional high quality products. So much so, that they offer a lifetime guarantee for 35 years.
There are many benefits to choosing a quality flooring option for your home. In Leigh, our wood flooring offers not only excellent aesthetic appeal, but long lasting quality. A V4 wood floor looks just like a real wood floor. This is because it is. All V4 flooring has a real wood top layer. The manufacturing process includes the use of real oak or walnut wood in their veneer surface. There is also a huge range of styles and colours, along with finishes to choose form. This means you will find the right choice to match your interiors. V4 wood flooring is also an environmentally friendly choice. All the wood is ethically and responsibly sourced from carefully managed woodlands. Another benefit to note is that this flooring doesn't expand as much as a solid floor.
Wood flooring in Leigh is a superb choice for any home. It can be installed in any room in your home for both great looks and durability. For more details about our range of wood flooring, contact Greens Carpets today. Our wood flooring is easy to install, and once it is, you can enjoy many years of beautiful flooring. We're pleased to offer an expert installation service for your new wood flooring. Our efficient and professional installation team will install your new wood flooring at a time that is convenient to you. Moreover, our prices are highly competitive too. You can change the look of your interiors with our excellent quality wood flooring.