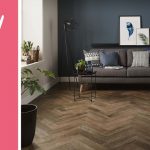 Consider Amtio in Orrell for a beautiful flooring option for your home. Amtico flooring, a British made flooring product, is a luxury vinyl tile that replicates the look and feel of natural materials such as wood and stone. One of the biggest advantages of choosing this type of flooring over their natural counterparts is the cost. Relatively inexpensive to purchase and install, it is also durable and you can expect many years of use from this versatile flooring.
You can change the flooring in any room in your home. In Orrell, Amtico is long lasting, strong and easy to maintain, making it a perfect choice for the busy home. Because of its water-resistant properties, it can also be installed in the bathroom or kitchen, where spills can be wiped up quickly, and without any fuss. You may be wondering why you could choose Amtico flooring over other flooring options like wood or stone. Amtico looks and feels good. It is an interesting fact that Amtico is naturally warmer to the touch than real wood or stone. Another great benefit of this flooring type is its maintenance. No more hours of scrubbing and polishing when a quick sweep and light mop will have it looking like new. Should your flooring get damages, the tile that is damaged can be replaced, without having to rip up and replace the entire floor. If you are interested in taking advantage of the benefits Amtico flooring has to offer, pay us a visit at Greens Carpets.
You can change the look of your home with Amtico in Orrell. To find out more about this practical yet stylish flooring option, contact Greens Carpets today. We stock an exciting range of Amtico flooring products at excellent prices. As we are proud to be a Wigan 'Amtico retail partner', we have the experience to offer the perfect Amtico floor solution for your requirements. First established in 1960, we continue to provide all our customers with first-rate flooring products and exceptional service. We're proud to say that we will not be beaten on price and quality, and offer a price promise guarantee.