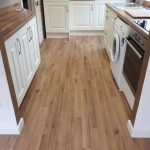 For your busy household Greens Carpets recommends Quick Step flooring in Wigan. We know you want beautiful flooring with authentic looking textures and designs. We also know you need durable, low maintenance flooring at affordable prices. That's why our Quick Step Flooring is so popular with busy families. Quick Step is a laminate with layers starting with a barrier layer protected from dampness, high density fibreboard, a design layer and a clear protective layer. All the layers are compressed under high pressure and heat to form a highly durable flooring material. The laminate is then cut into boards or tile that are easy to work with. Many find our Quick Step products easy to install themselves but if you prefer our skilled installation will do a professional installation for you.
Our staff is well versed in our products so count on us to answer all your questions regarding Quick Step laminate flooring. We will advise those of you interested in Wigan about Quick Step flooring. Ask about costs, installation, and maintenance and anticipated durability so you know exactly what you're paying for. For instance, some of our laminate is suitable for bathrooms and kitchens as long as a protective barrier goes down first. Also, the flooring strips are not bevelled and glue is used in the installation so the boards or tiles are tightly sealed against moisture. There is no way for moisture to seep into the layers and weaken the laminate. You can float the laminate on flooring in dry areas like dining rooms or bedrooms and use bevelled edges safely.
We stock many styles and designs of Quick Step Flooring in Wigan that are designed for families who will be living with it. Allergy and asthma sufferers will find Quick Step flooring products is easy on their breathing. There is nowhere for bits of food, pollen, dust mites and dirt to embed between and below the laminate planks. We have Quick Step flooring for all decor preferences and all budgets. Contact us or pay us a visit and view our many samples of Quick Step flooring best suited to family living. It can stand up to the toddler walkers and scooters, remote control car races and the dogs who chase them as well as years of birthday parties.