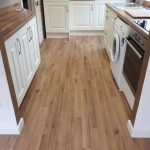 Transform your interiors with top-quality V4 Wood flooring in Orrell fromGreens Carpets. We are proud of our half a century's heritage in the flooring business. We were established in 1960 and today, we are a family run, family owned business focused on the supply and installation of premium grade flooring products. Most of our business comes to us via recommendations from delighted clients who have been 100% satisfied with our products and services. Our team of highly-trained, experienced and expert installers and fitters ensures that you get the best service at an affordable rate. Our showroom in Martland Hill, Horton Street, Wigan is the hub for all the neighbouring regions through which we extend our customer services. As an independent retailer, our only commitment is to our clients.
Our talented team offers clients the right advice and assistance to choose the perfect flooring option for domestic and commercial spaces. In Orrell, V4 Wood flooring is a great choice because of its great qualities of toughness, beauty and versatility. This company has been in business for many decades and we are proud to be associated with such a reliable, well-established and reputed brand. Their speciality is creating premium quality engineered wood flooring that is in sync with modern living spaces. The company uses only timber sourced from sustainable, well-managed forests. This means that customers can rest assured that the products are environmentally friendly and 100% EUTR compliant. You also get a dazzling range of finishes, from UV and hardwax oiled to lacquer finish.
Along with its beauty and elegance, V4 Wood flooring in Orrell is supremely practical too. It is compatible with underfloor heating and this means you can combine the luxury look of hardwood with modern comfort. The available options include planks in narrow and extra wide configurations, besides a charming herringbone pattern option in a variety of hues. With these, you can create a variety of effects, ranging from traditional and classic to sleek, contemporary or professional. To find out more about our V4 wood flooring, contact Greens Carpets.  We can help you to choose the perfect brand and product to match your unique needs, preferences and budget.