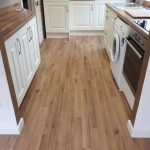 Greens Carpet has all the answers to your questions about V4 wood flooring in Haigh. V4 has won the Residential Project at the Contract Flooring Awards for 2019. That should give you a good idea of V4's popularity, quality and style. This fantastic flooring product began right here in the UK and 3 generations of this family owned company have participated in its success. If you love natural wood flooring but you also want more colours like whitewash and barn grey or really dark, almost black colours, V4 is your wood flooring product. The natural wood colours we're all familiar with are richer than any you'll see anywhere else. The colours go deep into the wood, raising the grain for a pure natural wood look.
You may prefer the natural wood colours or the new pallet of colours but in either you like texture. In Haigh, V4 wood flooring offers texture on texture. You have the natural grain texture of the wood but then you can choose a design created using the wood. For instance, a herringbone design in a natural wood grain oak adds tremendous interest. The multiple designs are available is a wide array of colours. We love the wide board natural finish that makes spaces look bigger. There is so much new for our customers to love but not at the expense of the old. Beautifully satin finish oak floors gleaming reds, golds, and natural wood tones are still very popular for all home styles and decors.
V4 wood flooring in Haigh is engineered wood flooring that is natural wood made strong and water resistant with a high pressure laminating process. It's also highly versatile because it can be cut into planks of various widths and lengths to create unique flooring designs. At Greens Carpets, we are proud to offer the wood products of V4 because they are responsibly sourced from sustainable and managed forests. The quality is high and options are many. Contact Greens Carpets or visit our showroom and see our large sample panels of V4 wood flooring. Our staff is well versed in the merits of V4 wood floors. We have the most efficient, conscientious and professional installers with years of experience efficiently installing V4 wood flooring for our customers. We offer the whole package, from start to finish.